Description
Available while stocks last.
Durable, 2­-layer, static-dissipative, grey fleck vinyl matting with a conductive backing which complies to DIN EN 61340­5­1 standards. This matting can be re-used again and again.
Vinyl floor matting is suitable to use for electronics manufacturing applications that require the use of ESD footwear.
The smooth surface allows for easy cleaning. The material is abrasion-resistant and is suitable for chair castors. Installation is very simple and can be secured with double-sided tape.
Material is 2mm thick and maximum roll size is 1500mm wide and 10 metres long.
Flooring is great when setting up an Electrostatic Protected Area.
What types of matting are there? Click here to find out.
Key Features:
Two layer vinyl flooring.
Dissipative flooring.
Complies with DIN EN 61340-5-1.
Insulation resistance according to DIN VDE 0100-410 (personnel safety).
Abrasion resistant.
Conductive backing.
Suitable for chair castors, depending on floor substrate.
Elastic.
Reusable.
Matting Options:
KSFM10: Full roll. 1500mm wide x 10 metres long.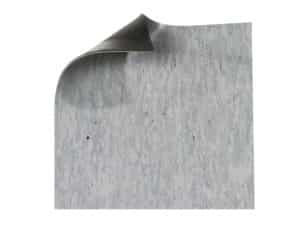 To view our full range of ESD floor matting, click here.