Description
These electrostatic dissipative, interlocking ESD floor tiles are ideal for both commercial and industrial use; including, production plants, electronics and telecommunication factories, offices, data centres, healthcare environments, cleanrooms and computer server rooms.
The tiles are a tough, flexible and modern flooring solution. They create a safe conductive floor surface that can be used as your primary ground and offer a life-time guarantee that will help it retain its ESD performance. To understand how ESD flooring can benefit your Electrostatic Protected Area, click here.
Interlocking ESD Floor Tiles are also available in a non-ESD tile format – please contact us for more information.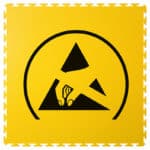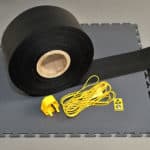 Key Features:
Very quick and easy to install – no adhesive required.
Exceptional durability – Resistant to impact, vibration and abrasion.
Anti-slip properties.
Life-time guarantee of ESD performance.
Environmentally friendly – 100% recyclable and zero VOC emissions.
Manufactured using an injection-moulding process during which thousands of tiny stainless steel fibres are added to the compound.
Smart modern appearance – Precision engineered interlocking joint.
Good chemical resistance – Resists most chemicals and fluids.
Reduces fatigue.
Manufactured in the UK with ISO 9001 Accreditation.
BS EN 61340-5-1 and IEC 61340 compliant.
RoHS and REACH compliant.
Benefits of using Bondline for your ESD Floor Installation
Over 30 years' experience of installing ESD flooring
Advice on floor preparation and most appropriate material to use
Variety of materials to choose.
Complete supply, deliver and install package
Installation by our recommended fitters with experience of floor installations.
Test Certification.
Annual testing/certification if required
When establishing an electrostatic protected area (EPA), making the correct choice of ESD flooring is essential to ensure that sensitive electronic components and assemblies are adequately protected from the harmful effects of electrostatic discharge (ESD).