Description
ESD Floor Matting is used to ensure people and products are grounded in the static sensitive environment.
This rubber floor matting is manufactured from a very durable, 2-layer static-dissipative rubber with a conductive backing. The matting must be grounded to Earth and cleaning should be maintained on a regular basis for maximum efficiency. The top layer has a smooth surface which allows for easy cleaning with a Killstat floor cleaner. Material is abrasion-resistant and is suitable for chair castors. Matting complies to DIN EN 61340-5-1 standards.
Key Features:
Two colour options, light and dark grey fleck.
Material is 2.5mm thick
1500mm wide and 10 metres long.
The Rubber is heat resistant.
The rubber remains in its same form even in cold or warmer conditions. The ESD properties will not fluctuate.
Material is abrasion-resistant and is suitable for chair castors.
The smooth surface allows easy cleaning. (Floor Cleaner)
Installation can be secured with double-sided tape.
Custom sizes available to suit any requirement.
Complies to DIN EN 61340-5-1.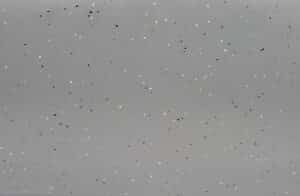 NOTE: ESD heel straps or footwear must be worn in conjunction with any ESD flooring in order to prevent a build-up of static charge. This allows for the operator to be safely grounded to Earth while transporting static-sensitive devices.
Clearance ESD Rubber Floor Material available by clicking here.
To view our full range of ESD floor matting, click here.