Description
Corstat® Transit Packs offer exceptional protection from electro static discharge (ESD).
Corstat® is the ESD industry standard for conductive corrugated board. Corstat® provides a highly efficient, low-cost method of providing static protection for handling, transportation and storage of static sensitive devices.
Corstat® Transit Pack Options:
Ref A – Supplied *FLAT PACKED* unassembled, no foam.
Ref B – Supplied *ASSEMBLED* with pink antistatic foam.
Custom designs and special printing available on request.
ESD Safe Handling and Storage. Exceptional protection from both static and mishandling.
Corstat® transit packs offer exceptional protection from electro static discharge (ESD). The patented Corstat® carbon based coating, when coupled with the structural design, creates a "Faraday Cage" that efficiently channels static around the outside of the pack. This protection can be further enhanced with the addition of pink anti static foam.
This level of protection can eliminate damage to items and the associated costs of returns and replacements. Full range of factory stock sizes, you can also improve productivity through reduced packing times, easy disposal and safe handling.
Reliability and durability guaranteed.
Corstat® coating and pack design creates a "Faraday Cage", protecting from static, the Anti static foam protects from ESD, as well as providing cushioning from mis-handling. Custom sizes and designs tailored to your product, offering bespoke levels of protection.
Benefits of using Corstat® Transit Packs
Improve the efficiency of your operations.
Available fully assembled, reducing packing times and boosting productivity
Inert and safe to handle, eliminating the need for protective clothing / equipment (PPE)
Lower unit cost compared with plastic alternatives, without sacrificing performance > Can be supplied flat for assembly on site, reducing transport and storage costs > Environmentally friendly, and bio-degradable, minimising disposal costs.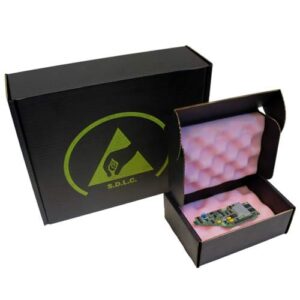 Corstat® Brand
Effective Protection
Corstat® anti- static conductive board coating is a well proven material for use in anti-static packaging. It has been available for over 11 years and specified by virtually all the major electronic companies in the USA and UK.
Effective Production
Boxes and containers coated with our materials are easily converted on standard machinery. The results give durable packaging that is cheaper than conductive plastic or fibreboard alternatives.
Wide Product Range
Corstat® anti-static conductive board coating is used by virtually all the main electronics companies around the world for transit packs, component boxes, in-plant handlers, bin boxes for ic-tubes and many other applications.
Consistent High Quality and Appearance
Corstat® anti- static conductive board coating is consistently manufactured, within an ISO 9002 approved environment, to high specifications which are accepted worldwide, Corstat® has a shiny finish due to the over-seal varnish during manufacture.
Corstat® and Environment
Corstat® anti- static conductive board coating is biodegradable and recyclable. Their products do not contain any heavy metals, aromatics or halogenated hydrocarbons.
To view our full range of Corstat® products, click here.