Description
This ESD safe office pen holder is made from ESD Polypropylene with natural antistatic properties.
The material is not treated with ESD coatings so it retains its ESD safe properties.
Conforms with BS EN-61430-5 for use within an Electrostatic Protected Area.
Pen holders are an essential office item – when in an EPA, it's crucial to have an anti-static pen holder to prevent static damage to components and devices.
To be used in conjunction with ESD Pens.
Please note: This will not make NON ESD pens ESD safe.
Key Features:
The ESD Pen Holder is 100 x 95 x 100mm in size.
There are three separate compartments for storing and organising your pens.
Standard black colour with an ESD warning symbol on the holder's front to display its compliance for an EPA.
ESD Polypropylene material.
Conforms with BS EN-61430-5.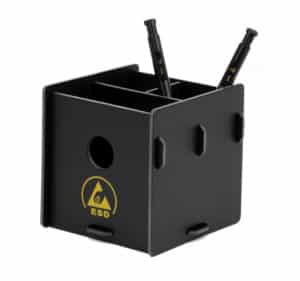 Click here to view our full range of ESD Office/Stationery products.