Description
Place the meter on the ESD work surface and when the operator presses the button it will indicate an ESD safe working area. Custom logos/printing available on request. Each unit is supplied with 1 year calibration certificate. All test instruments are manufactured to the very highest quality allowing qualification to council directives 89/336/EEC. All items are CE approved.
Bespoke ESD Work Check
We can offer private labelling, custom logos and colours on request for Bondline's ESD Work Check. Additionally, we can also provide specific ranges to conform to many standards in the electronics industry. If you would like a custom ESD Wrist Strap Tester, please make an enquiry to Bondline.
Example of ESD Work Check Bondline customised for a customer.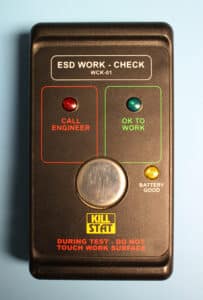 How To Use ESD Work Check
1) The ESD work surface is clean, allowing good contact.
2) The ESD work surface is grounded.
3) The earth bonding point is connected to ground.
4) The wrist strap (or ESD footwear/heel strap) is worn and functioning correctly.
To view our full range of ESD Test equipment, click here.