Description
Standard Wrist-Strap Tester has a single test range 0.75 meg-ohm to 35 meg-ohm. (Other resistance ranges available on request). A 9V battery is required. The instrument has a green light for pass (i.e. resistance between 0.75 meg-ohm and 35 meg-ohm) and 2 red lights which indicate either High resistance fail or Low resistance fail. A buzzer sounds in any fail situation. Very easy to use.
Key Features:
All test instruments are manufactured to the very highest quality, allowing qualification to council directives 89/336/EEC.
Custom Logos, backboards, printing and other instrument colours available on request.
Each unit is supplied with 1 year calibration certificate.
Full calibration service available.
Very easy to use.
CE approved.
Bespoke Wrist Strap Testers
We can offer private labelling, custom logos and colours on request for Bondline's ESD Wrist Strap Testers. Additionally, we can also provide specific ranges to conform to many standards in the electronics industry. If you would like a custom ESD Wrist Strap Tester, please make an enquiry to Bondline.
Examples of ESD Wrist Strap Testers Bondline have customised for customers.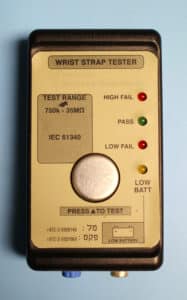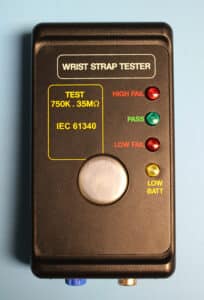 How To Use ESD Wrist Strap Tester
All testers will illuminate green if the outlets' wiring is correct and the path to earth ground via the equipment grounding conductor is intact. The tester will alarm and illuminate if either condition is not met. We recommend all test equipment is calibrated annually.
To view our full range of ESD Test equipment, click here.