Description
Our range of anti-static mats and bench matting is designed to keep you grounded when working with static-sensitive devices. This includes printed circuit boards, computer motherboards, hybrid bio-electronic devices and more.
Designed to give full static protection when handling static sensitive devices in a production or test environment. KSWKS2 includes a 1200 x 600mm bench mat together with grounding cord, coil cord and wrist strap.
(Supplied with blue mat.)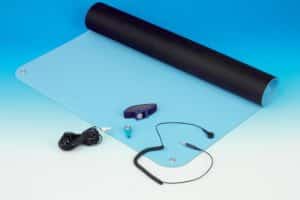 To view our full range of ESD matting, click here.