Description
Standard Cobalt Dichloride Free Humidity Indicator Cards.
Humidity Indicator Cards (HIC's) are used to determine when products have been exposed to moisture above recommended storage levels. They are printed with moisture sensitive spots, which respond to various levels of humidity with a visible colour change from brown to green. The humidity inside dry packed moisture/metallised barrier bags can be monitored by including a Humidity indicator card inside. When the bag is opened, the card can be examined for proper dryness inside the bag. This indicated that the barrier bag and the desiccant is functioned correctly.
Cobalt Dichloride Free
Cobalt dichloride is a chemical that changes colour when exposed to changing storage levels of moisture and is commonly used in HIC's for that purpose. Cobalt dichloride is a chemical regulated under European Chemical Bureau (ECB) REACH and has been identified as a substance of concern for the environment and for that reason Cobalt Dichloride Free HIC's provide electronic and semiconductor manufacturers with an IPC/JEDEC J-STD-0.33 complaint humidity card that is free of Cobalt Dichloride and complies with evolving EU and WEEE directives regarding hazardous substances.
Key Features:
Humidity indicators are used to detect moisture and humidity in packaging (inc. moisture and metallised barrier bags).
The composition is composed of cobalt dichloride free on cardboard.
Colours change on the card to indicate RH levels inside packaging.
Humidity Indicator Cards conform to IPC/JEDEC 033 standard.
Cobalt Dichloride Free Cards meet RoHS, REACH and WEE directive regarding hazardous substances.
Card Options:
 3 spot  – 5, 10, 60% RH – 125 cards per can.
 4 spot – 10, 20, 30, 40% RH – 100 cards per can.
 6 spot – 10, 20, 30, 40, 50, 60% RH – 200 cards per can.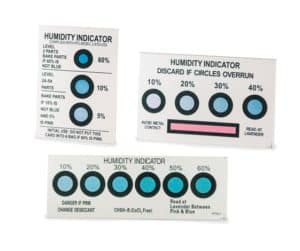 Click here to view our Standard Cobalt Humidity Indicator Cards.