Description
Premium Best Selling ESD Textured Bench Matting is used for controlling electrostatic discharge within the EPA. Our anti static mat controls this discharge allowing static electricity to transfer safely to ground. It also protects the surface of the sensitive devices during productions.
Example ESD Bench Mat workstation: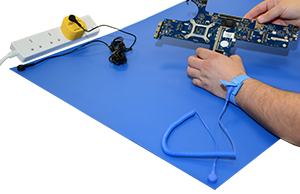 Our great value, protective mat is designed to drain static charge from items placed on its surface. For a mat to effectively ground an item, the mat must be either conductive or dissipative and be connected to a suitable grounding point. This anti static mat is ideal for laying on workbenches in the workshops or laboratories of microelectronic industries. It provides excellent ESD protection for operators working with static-sensitive components in an EPA. The 2-layer textured bench matting is 2mm thick. Manufactured from a synthetic rubber.
The KSMLF matting range's top layer is static-dissipative with a conductive backing giving a typical resistance to ground = 106-108 ohms. The smooth surface allows easy cleaning and maintenance. The textured finish adds extra comfort for the operator. We provide a premium service of bespoke custom sizing and studding for our bench matting to suit all customer requirements. If you would like bespoke customisation, please make an enquiry to us.
Features of Bench Mat:
Durable 2-layer synthetic anti static rubber mat.
Resistant to solder splash / hot paste and abrasion. The material doesn't melt if in contact with hot metal parts or soldering debris. (Cheaper PVC based rubber mats are not solder proof.)
The surface is scratch-resistant so it prevents sliding of components.
Bench mat is very easy to clean especially with Staticide Mat and Table Top Cleaner.
Material is 2mm thick.
The top layer is static-dissipative with a conductive backing giving a typical resistance to ground = 106 – 108
Can be loose-laid at the workbench. No adhesives required.
Fully RoHS and REACH compliant, meeting requirements of EN61340-5-1, US ESD Associations ANSI S4.1 and S20.20 guidelines.
Custom sizes available to suit any requirements. Standard rolls are 10m long.
All matting can be cut and studded to suit all customer requirements.
Anti Static Mat Grounding
When using an anti static mat you should also use the correct grounding equipment; if a static charge was to be present it would go directly to Earth.
Our essential grounding equipment includes:
We also offer a work station kit that includes all the essential grounding equipment for your workbench. This is great for personal use or small businesses who are looking for a great value, compact grounding kit. To view our work station kit, click here.