Description
KILLSTAT Green Handled Plier KS1544. This ergonomic tool has static-dissipative handles as standard. The cutting edges are machined (not forged) for adding quality and precision. The cutting head is hardened with an anti-glare finish. Precision joint with dual leaf springs ensure long working life. Green handled tool for a lead-free area.
The KILLSTAT green handled plier is half-round with smooth internal jaws to allow for precision work.
Size: 125mm long. A=28mm. D=1.5mm. E=1mm.
Key Features:
Static-dissipative handles.
Machined cutting edges (not forged) for adding quality and precision.
Cutting head is hardened with an anti-glare finish.
Precision joint with dual leaf springs.
Green handled tool.
Half-round plier with smooth internal jaws.
RoHS and REACH compliant.
Compliant according to IEC-61340-5-1 International Standard.
What Are Anti-Static Tools?
Anti-static tools are designed to be a part of a complete program to safely discharge static.
Static electricity naturally builds up through three different processes:
1) Tribocharging: Two materials (like socks and carpet) are brought into contact and then separated.
2) Electrostatic induction: An electrically charged object is placed near a conductive object that isn't grounded.
3) Energetically charged particles impinge on an object: This is mostly a problem for spacecraft.
The most effective prevention for static electricity isn't so much a single tool, as it is a system of precautions, grounding mechanisms and a lack of highly charged materials. Together, this creates an Electrostatic Discharge Protection Area (EPA) that works to keep electrostatic discharge (ESD) sensitive materials safe.
The principles of a successful EPA include:
1) No highly charged materials.
2) All conductive materials are grounded.
3) Workers are grounded.
4) Electrostatic charge builds up on ESD-sensitive electronics is prevented
The hand tools you use in this environment are often made from plastics that are specifically created to work within this delicately balanced system. These electrostatic dissipative (ESD) tools have a balanced charge and low surface resistivity, which means they don't gain or lose charge to the objects and surfaces that surround them. These tools have precise temperature and humidity ranges that they work in. If they're used outside those ranges, they may still create a static charge.
ESD-Safe Tools In The Workplace
Precision modern electronics require sensitive handling and semiconductors, wafers, memory chips, processor units and hard drives are just some of the items which require protection from static electricity. This range of critical ESD workplace tools are all insulated and designed to mitigate the effects of static, helping to protect your working environment. Accessories such as ESD pliers, cutters and tweezers will ensure that a technician is properly grounded before commencing work on a static-sensitive device.
By taking environmental precautions, using grounding straps and investing in ESD-safe tools, you'll be able to control and prevent ESD damage while working on PC repairs, smartphones, making circuits, and many more projects. By taking extra steps like these, you'll save time and money preventing and diagnosing problems down the line. ESD-safe tools are an affordable solution to help you in your work and they help keep your electronics safe!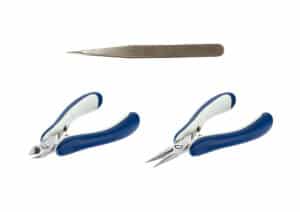 Contact Us
Bondline are one of the leading UK suppliers and vast stockists of anti-static products, including hand tools. With our competitive pricing, high-quality products and unrivalled service, you can be assured you will have only the very best! Contact us today: Email: sales@bondline.co.uk or Tel: 01793 511000