Description
A double ended, inexpensive antistatic brush for cleaning static sensitive assemblies and components.
This double-ended applicator brush has 0.010″ anti-static, static dissipative Nylon bristle. One end has a flat trim and the other end has an extra-stiff chiseled trim. The handle is made of lightweight zinc-plated steel. This brush is manufactured using strong mechanical clamping for maximum fibre retention, and is adhesive-free to prevent contamination on surface areas caused by leaching.
This high quality brush has a trim of 3/16″ at the tapered end and 1/4″ at the flat end. The handle dimensions are 4-1/2″ length x 3/8″ diameter, and has a brush width of 1/2″ flat. This brush has a maximum use temperature of 225°F, and is a great alternative to hand-trimming acid brushes. This brush allows the safe cleaning of ESD sensitive assemblies without generating any harmful static charges.
Antistatic Brush Features:
Round, lightweight, zinc-plated steel handle.

Brush Length: 127mm. Brush Width: 10mm.

Both Bristles (H/W/L): 6 x 10 x 14mm.

Manufactured with static dissipative Nylon bristle.

Includes a flat trim and an extra-stiff chiseled trim.

This antistatic brush is approved to BS EN 61340-5.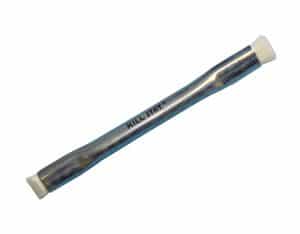 To view our range of ESD brushes, please click here.
To enquire about this product, please contact us by clicking here.