Description
163mm ESD Brush – great for cleaning large static sensitive assemblies.
This brush has 0.012″ Nylon bristle with a hand-laced aluminium handle. The Nylon fill material is hand-laced with stainless steel wire into its handle for maximum fibre retention. This high-quality brush has a 3 x 11 row configuration, with a 7/16″ trim, and a brush face of 1-1/4″ x 5/16″. These brushes are popular for detail cleaning on items such as printed circuit boards and SMT assemblies, or for use as fluid applicators. This brush allows the safe cleaning of ESD sensitive assemblies without generating any harmful static charges.
Anti-Static Brush Features:
Long brush head for PCB cleaning application.

Strong, hand-laced, aluminium handle.

Manufactured with Nylon bristle.

Brush Length: 163mm. Brush Width: 10mm.

Bristles (H/W/L): 32 x 10 x 7mm.

For use in an EPA where static control is required.

RoHS and REACH compliant.
Compliant according to IEC-61340-1-5 International Standard.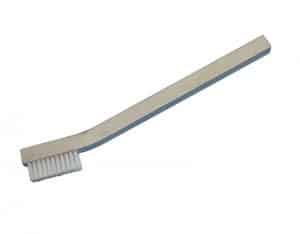 To view our range of ESD brushes, please click here.
To enquire about this product, please contact us by clicking here.