Description
180mm ESD Brush.
180mm ESD flat brush allows the safe cleaning of ESD sensitive assemblies without generating any harmful static charges. The brush hair is manufactured from a conductive PA material and the brush handle is made from a conductive PP material. This ESD brush does not produce dust particles and it consists of 40% polypropylene, 45% polyamide and 15% carbon fibre.
Key Features:
Strong, conductive polypropylene handle.

Manufactured with soft, conductive fibres.

Easy-to-grip handle.
Suitable for cleaning ESD sensitive assemblies and components.
Toothbrush style.

Brush Length: 180mm. Brush Width: 14mm.

Bristle Size: 35 x 8mm. Bristle Length: 20mm.

Standard compliance: ANSI/ESD S20.20*1999 requirements EN61340-5-1.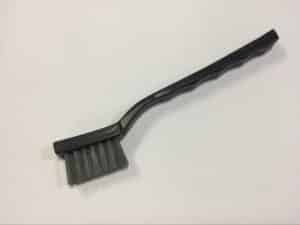 To view our complete ESD brush range, please click here.
To enquire about this product, please contact us by clicking here.