Description

Abeba ESD Safety Shoes With Laces 31721 in the colour black.
Supplied as a pair. Available in sizes (European size 35-48) or (UK size 2.5-13).
ESD Safety Shoes With Laces 31721 are manufactured with a velour material combined with a breathable textile. These shoes have been designed for maximum comfort and exceptional safety. They have a steel toe cap, instep area with lacing, along with reflector strips for good visibility. A light and flexible lace up shoe, great for all day wear.
The shoes have an anti-slip TPU outsole, a soft-PU midsole and an Active Comfort insole which can be replaced. Further features include: sanitised treated, breathable lining with silver ions and ESD-compliant according to DIN EN 61340.
ABEBA is one of the largest and most modern shoe manufacturers in Europe with customers in more than 30 countries worldwide. Their shoes are specially designed to provide perfect protection, a healthy foot climate and best wearing comfort for an every day use.
Properties of 31721 Shoes:
CEEN,

ISO 20345:2011S1SRC

Climate class: 1

Velour with breathable textile

black

Steel toe cap
Midsole Soft-PU
Anti-slip TPU outsole
Replaceable Active Comfort insole
Sanitised treated
ESD-compliant according to DIN EN 61340
Breathable lining with silver ions
Instep area with lacing
Reflector strips
Uni6 series
ESD symbol featured on shoes
RoHS and REACH compliant

Outsole Features:
1) ESD dissipative according to DIN EN 61340
2) SRC slip resistance according to EN ISO 20345:2011
3) Animal fats and oil resistant
4) Resistant to fuel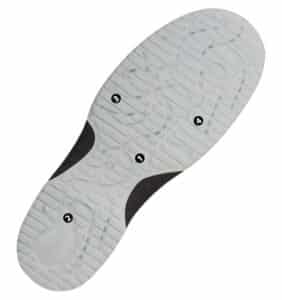 For primary grounding these shoes should be used in conjunction with suitable static dissipative flooring.
Please contact us for a complete list of our range.