Description
Abeba ESD Black Lace-Up Shoe 32610 for all day comfort in static control areas.
Supplied as a pair. Available in unisex sizes (European size 35-47) or (UK size 2.5-12).
Bondline's ESD Black Lace-Up Shoe is made with a grain leather upper, a respiration absorbing microfibre lining, and a fabric insole. The air cushion technology ensures comfort for operators who are on their feet for long periods of time. The shoes are easy to fasten and have a good heel gradient to relieve strains on joints. The ideal footwear solution for managers who require static protection.
ABEBA is one of the largest and most modern shoe manufacturers in Europe with customers in more than 30 countries worldwide. Their shoes are specially designed to provide ultimate protection, lightness, full control, a healthy foot climate and best wearing comfort for an every day use.
Properties of ESD Black Lace-Up Shoe 32610:
CE, EN ISO 20347:2012, O2, SRA
Material: Grained leather
Colour: Black
Gender: Unisex
Available sizes: European size 35-47 or UK size 2.5-12
Lining material: Microfibre, respiration absorbing
Insole: Fabric
Sole: Pu
Fastener type: Shoelaces
Protection standard: Occupational footwear
Slip resistance PU outsole sole
Replaceable insole
Sanitised treated
Instep area with lacing
ESD dissipative according to DIN EN 61340
Climate class 1
RoHS and REACH compliant
ESD symbol featured on shoes

Outsole Features:
ESD dissipative according to DIN EN 61340
SRA slip resistance according to EN ISO 20347:2012
Air cushion PU-sole with high slip resistance
Extremely light
Fuel resistant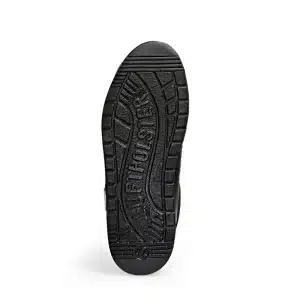 Industry:
Horeca (catering industry)
Electronics manufacturing
Please contact us for a complete list of our range.