Description
Abeba ESD Perforated Black Clog Occupational Footwear (5310).
Supplied as a pair. Available in unisex sizes (European size 36-47) or (UK size 3.5-12).
Occupational ESD Black Clog Shoes (5310) are made with a grain leather upper, fabric lining, leather/fabric insole and a TPU/rubber sole. The heel strap can be folded, adjusted and fastened with a buckle. Designed to be comfortable for all day wear, stylish, as well as easy to adjust and slip on. These shoes have a microfibre heel patch for added comfort and a lightweight Mono-PU-outsole. They are ESD dissipative according to DIN EN 61340 standard which makes them suitable for wear in static controlled areas (EPAs).
ABEBA is one of the largest and most modern shoe manufacturers in Europe with customers in more than 30 countries worldwide. Their shoes are specially designed to provide ultimate protection, lightness, full control, a healthy foot climate and best wearing comfort for an every day use.
Properties of ESD Perforated Black Clog 5310:
Type of footwear: Clog
Colour: Black
Upper material: Grain leather, perforated
Lining material: Fabric
Insole: Leather/Fabric
Sole: Tpu/Rubber
Fastener type: Buckle
Gender: Unisex
Protection standard: Occupational footwear
Line: Rubber
Protection class: OB – Basic requirements met
Sanitised treated
Heel strap foldable, adjustable
Slip resistance special rubber outsole sole
ESD protective symbol featured on shoe
ESD dissipative according to DIN EN 61340
Available in multiple sizes (European size 36-47) or (UK size 3.5-12)
RoHS and REACH compliant
CE approved

Characteristics:
Slip resistance on ceramic, coated with SLS solution and on steel, coated with glycerol
Slip resistance on ceramic substrate, covered with SLS solution and on steel substrate, covered with glycerol
ESD protection against electrostatic discharge
Antistatic footwear – antistatic properties
The sole resistant to diesel fuel – sole resistance to diesel fuel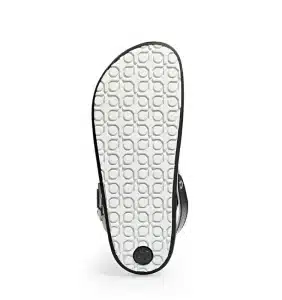 Industries:
Hospitals
Pharmaceuticals
Please contact us for a complete list of our range.