Description
ESD Polo Shirts can help prevent damage to sensitive electronic components that are being assembled or packaged within a protected area. These Polo Tops have been specially designed to be comfortable for the user. Invest in quality antistatic clothing today!

Anti static clothing is an essential part of many electronic manufacturing and engineering companies. They should always be seen as another vital aid in ESD Protected Areas.
Our unisex polo shirts are ideal for use within an EPA area in warm environments or even all year round. Each polo shirt is manufactured from a static-dissipative material with a material composition of 58% cotton, 39% polyester and 3% conductive yarn – ensuring excellent comfort and support with a lightweight feel. The conductive yarn ensure the garments eliminate static and prevent the effects of electrostatic charges being built up from non ESD clothing.
These polo shirts have a collar and two buttons. On the polo shirt's breast pocket features an ESD susceptible logo to allow for easy identification. Our Bondline polo shirts are available in the colours blue and grey as standard. We offer various sizes to suit your requirements; sizes range from small to 4XL.
With their high-quality, static-dissipative material and professional appearance, they are a great addition to your workplace's attire. All garments can be embroidered with your company logo/ information on request.
Key Features:
Manufactured from static dissipative knitted fabric material for use in ESD protected areas.
They are short-sleeved with a collar and 2 buttons.
Features one breast pocket with ESD susceptible logo.
Crease-resistant.
Conforms to EN 61340-5-1 standards.
Composition: 58% cotton, 39% polyester and 3% conductive yarn.
Custom logo embroidery and colours available on request.
Suitable for warm environments.
Available in blue or grey.
Sizes range from Small to 4XL.
RoHS and REACH compliant.
Bespoke Colours
Bondline's ESD Polo Shirts can be customised with special colours on request. Bespoke garments can enhance your company's visibility when you are meeting clients or when people are visiting your workplace. If you would like bespoke colours, please contact us and we can discuss your requirements.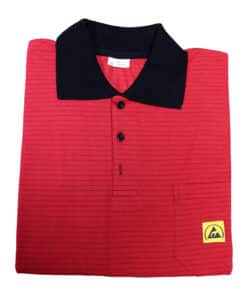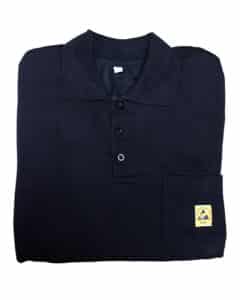 Custom Logo Embroidery
Bondline's custom embroidery service allows you to display your company's logo / information on your garment. This provides a premium appearance and feel to your garment and it allows for easy identification of your brand. This service is only available on request. Please contact us if you would like your garments to be embroidered.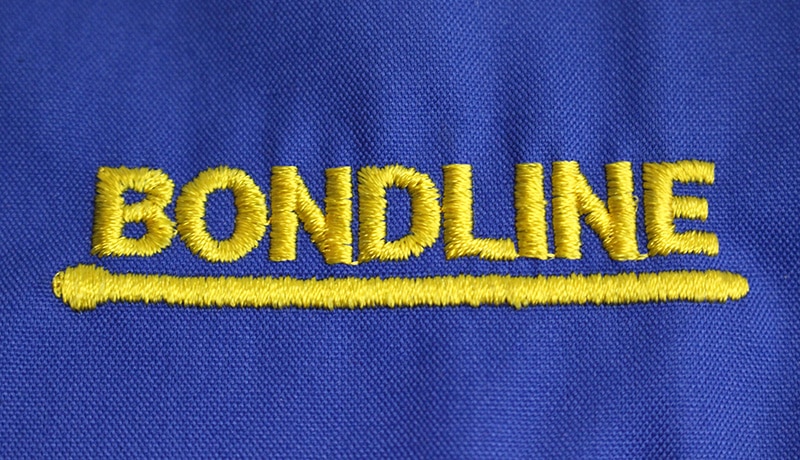 Images are for illustration purposes, colours may vary between different manufacturing batches.
To view our full range of ESD garments, click here.