Description
Square Tube ESD Anti Static Benches offer static dissipative properties which acts as protection from an electrostatic charge. These benches are perfect for use within the electronic assembly industry. As standard, the ESD bench includes a wrist strap that is attached to the workbench which ensures that the user is earthed to the bench. Full range of accessories available including wrist straps, circuit breakers and earth/ground leads. Manufactured in the United Kingdom.
Workbenches are great when setting up an Electrostatic Protected Area.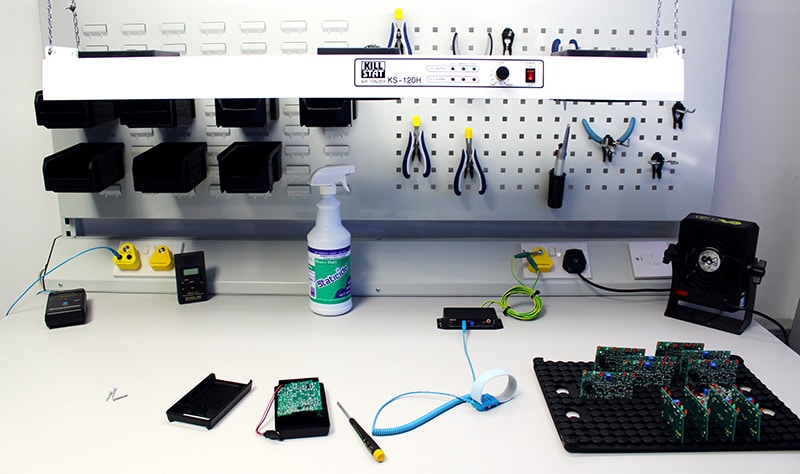 Click here to view Bondline's new range of ESD workbenches.
Key Features:
These Anti Static Benches are suitable for use as an assembly or repair bench in the electrical and electronic industries.
A leg in each corner gives firm support to the workbench.
The sturdy powder-coated light grey framework.
Anti Static Neostat or Lamstat worktop options available, please see below image for options.
Full range of ESD accessories available including galvanised louvre panels, anti-static floor mat, ESD seating and circuit breaker.
The standard height for the ESD Benches are available for these workbenches is 840mm, however, 760mm and 920mm heights are also available.
Delivered in knock-down form for easy on-site self-assembly.
Workshop bench weight load:250KG evenly distributed.
Choice of Worktops Available:
Neostat Worktop – Total top thickness 20mm – A synthetic based sheet material for covering ESD workbenches.
Lamstat Worktop – Total top thickness 20mm with chipboard core- Actual Lamstat thickness is 8mm.
Contact us to discuss your ESD bench, tailored to your needs Tel: 01793 511000 E: sales@bondline.co.uk or use our enquiry form.