Description
ESD Turntables for use on large or heavy products or assemblies on the workbench, the need to lift the product is taken away when working on a GYRO-STAT static safe turntable.
Bondline's ESD turntables are 100% safe to use in an EPA anti-static protected area. They are ideal for use within the electronic assembly industry, but can also be used in any other industry.
This range of ESD safe conductive GYRO-STAT turntables are designed and manufactured in the UK. A manual lock prevents spinning temporarily if required.
Work-related musculoskeletal disorders (MSDs), including manual handling injuries, are the most common type of occupational ill-health in the UK and their prevention is a priority for HSC/E. The Manual Handling Operations Regulations 1992 (as amended) establish a clear hierarchy of measures for dealing with risks from manual handling. Work-related Musculoskeletal Disorders Working practices associated with higher levels of musculoskeletal disorder (MSD) include: Heavy lifting Bending and twisting Repeating an action too frequently Working in an awkward or uncomfortable position The latest estimates from the Labour Force Survey (LFS) show that in Great Britain alone, the total number of MSD cases in 2011/12 was 439 000 out of a total 1 073 000 for all work-related illnesses.
Key Features:
Available in 3 different surfaces, natural stainless steel, blue rubber and grey rubber.
Made in the UK.
Can withstand 100KG (UDL) ad will prevent injuries caused by lifting heavy equipment. One of the three manual screw locks prevents spinning in any position.
Very low profile – only 14mm thick.
Corrosion proof stainless steel construction.
Connected to ground via work bench or mat.
Lockable in any positions with one of three thumbscrews.
Volume resistance 107-109. High quality conductive lubricated low resistance bearings.
Conforms to BS EN61340-5-1.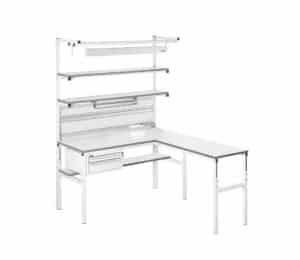 Click here to view our full range of ESD Workbenches and accessories.