Description
Loose-lay, NON-ESD Industrial Interlocking Floor Tiles for industrial applications.
Interlocking Industrial Floor Tiles are available in two interlocking dovetail joint designs, T-joint as standard. Our 7mm tiles are a popular solution for most applications, including warehouses, garages and factories. The tiles easily withstand repetitive use by forklifts, pallet trucks, heavy foot traffic, aisle pickers and pump trucks. They can improve workplace safety with an R10 slip rating and Bfl-S1 fire rating. The tiles are available in a variety of colours including light grey, dark grey, graphite, black, dark blue, yellow, green and red as standard. Raised disk tiles are only available in black, dark blue and graphite. These colours can be mixed to create walkways and colour-coded zones. The tiles have a good resistance to most commonly used chemicals. Available in smooth or raised disk. Used by hundreds of businesses worldwide, the Interlocking Industrial Floor Tile is an excellent choice for industrial applications. ESD version available.
Easy to Install. Simple to Repair if You Ever Need to.
Interlocking Industrial Floor Tiles are protective subfloors that are both cost-effective and hassle-free.
With Interlocking Industrial Floor Tiles, repair costs of damaged and worn concrete are eliminated for good. The tiles are easy to install. They can be simply installed directly over an existing floor without adhesives, damp-proof membranes or screed; hassle-free! Tile installation can be completed by our professional installation team, or they can be installed by yourself.
Unlike other floor coverings, our Interlocking Industrial Floor Tiles are simple to repair and extend. The tiles can be easily lifted and replaced by yourself. If your business is scaling or changing, you can adapt the floor layout to suit.
Perfect for Businesses Who Cannot Afford to Stop.
Interlocking Industrial Floor Tiles can be fitted in sections, allowing you to continue operation during installation. The tiles are ready to use immediately, without the curing or drying times associated with resin, screed or paint.
Recyclable and Long-Lasting.
Our long-lasting products are designed to help you reduce costs and environmental impact. Once the tiles reach the end of their useful 20+ year lifespan, they can be recycled.
Guaranteed Quality.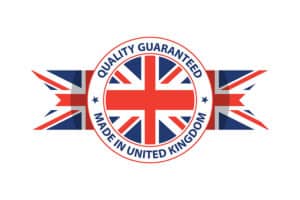 Interlocking Industrial Floor Tiles are proudly made in Britain by our supplier. Each and every floor tile is manufactured to the highest quality standards and every element of the product composition is strictly controlled.
Key Features:
NON-ESD
Tiles are 7mm thick
Suitable for trucks, HGVs and heavy-duty applications
Impact and chemical resistant
Flame retardant (Class Bfl-S1)
Excellent abrasion and slip-resistant (R10 Rated)
Reduces worker fatigue
Withstands tight turning circles
Smooth and raised disk options
Ideal for uneven or damp floors
Expected lifespan of 20+ years
Create coloured zoning and walkways
Easy to clean and maintain
Dovetail joint – T-joint as standard
Hassle-free installation – Install without downtime
Exceptionally durable
Noise reduction of up to 46db
No damp proof membrane, screed or adhesives required
Reduces dust and insulates the floor from cold
10 year warranty
No curing times required
No additional toxic chemicals, 100% recyclable
CE approved
RoHS and REACH compliant
Call +44(0)1793 511000 or email sales@bondline.co.uk to get a free, no-obligation quote.
If you'd like our install team to lay the floor tiles for you, let us know when discussing your quote.