Description
Designed and manufactured to fit under the workbench to provide a simple yet effective ESD grounding point. All connections have 1 meg ohm safety resistor as standard. (3 resistors per bonding point) Standard leads are 2 meters long with eyelet terminations.
These units distinguish between earth facility and earth bonding point – An earth facility (EF) usually distributes the electrical mains earth or a dedicated ESD earth, (protective earth) within an EPA. An earth bonding point (EBP or common ground point) ties together several elements of an EPA such as bench surface, floor mat or wrist strap. In this manner, all are kept at the same electrical potential. In an EPA there may be several EBP but there must be only one EF.
---
Properties:
Designed to be fixed to the work-bench.
Fitted with 3 x 1 Meg Ohm Resistor for each connection.
3 connection points.
Configurations can include 4mm,7mm,10mm Stud, 4mm Banana Sockets, M5 Binding Post.
Supports EN 61340-5-1 & ESD S20.20 ESD Handling.
Standard leads are 2 meters long with eyelet terminations. Earth bonding plugs are supplied with fixing screws and shake-proof washers. All custom configurations available on request. 
---
Customisation Options:
Earth bonding points and plugs can be manufactured using any combination of the following: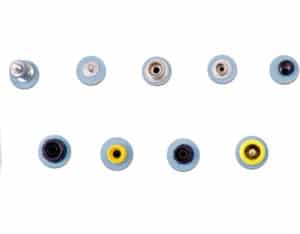 Our ESD grounding cords can be used in conjunction with our brackets, click here to view our range.
If you have any queries, please contact us either by telephone or email.