Description
Award winning Corriplast Collapsible Tote.
Corriplast totes are durable and provide excellent ESD protection, with performance comparable with moulded plastic. Plus, being able to collapse completely flat, they reduce transport costs and minimise storage. Besides enhanced lifespan, the smooth surfaces are easy to clean, allowing for an increased longevity plus clean room use too. 6 standard sizes, hand holes and stacking tabs enable ease of handling for the end user.
Folds flat to reduce the space required for storage. Reduces shipping costs to enable boxes to be reused. Can be supplied with or without a lid.
Corstat® Brand
Effective Protection
Corstat® anti- static conductive board coating is a well proven material for use in anti-static packaging. It has been available for over 11 years and specified by virtually all the major electronic companies in the USA and UK.
Effective Production
Boxes and containers coated with our materials are easily converted on standard machinery. The results give durable packaging that is cheaper than conductive plastic or fibreboard alternatives.
Wide Product Range
Corstat® anti-static conductive board coating is used by virtually all the main electronics companies around the world for transit packs, component boxes, in-plant handlers, bin boxes for ic-tubes and many other applications.
Consistent High Quality and Appearance
Corstat® anti- static conductive board coating is consistently manufactured, within an ISO 9002 approved environment, to high specifications which are accepted worldwide, Corstat® has a shiny finish due to the over-seal varnish during manufacture.
Corstat® and Environment
Corstat® anti- static conductive board coating is biodegradable and recyclable. Their products do not contain any heavy metals, aromatics or halogenated hydrocarbons.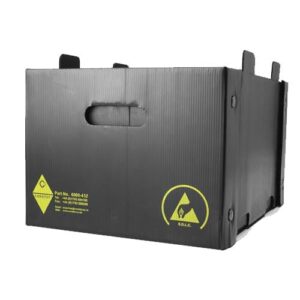 Discover our full range of Corstat® products by clicking here.