Description
Corstat® Bin Boxes and Tubes – Protect ICs, Dip Tubes and components.
Corstat® bin boxes offer ESD protection for virtually any static-sensitive item. Ideal for storing IC devices, dip tubes and essentially offering a versatile handling and storing solution, these conductive storage bins can eliminate the costs associated with damage in storage and handling.
Corstat® bin boxes are available in a wide range of standard sizes, plus closed, open front and fully open variants. This ensures they will offer full protection from harmful static charges.
All items supplied flat packed.
Please view the additional tabs for more information about this product.
Corstat
®

Brand

Effective Protection

Corstat® anti- static conductive board coating is a well proven material for use in anti-static packaging. It has been available for over 11 years and specified by virtually all the major electronic companies in the USA and UK.

Effective Production

Boxes and containers coated with our materials are easily converted on standard machinery. The results give durable packaging that is cheaper than conductive plastic or fibreboard alternatives.

Wide Product Range

Corstat® anti-static conductive board coating is used by virtually all the main electronics companies around the world for transit packs, component boxes, in-plant handlers, bin boxes for ic-tubes and many other applications.

Consistent High Quality and Appearance

Corstat® anti- static conductive board coating is consistently manufactured, within an ISO 9002 approved environment, to high specifications which are accepted worldwide, Corstat® has a shiny finish due to the over-seal varnish during manufacture.

Corstat® and Environment

Corstat® anti- static conductive board coating is biodegradable and recyclable. Their products do not contain any heavy metals, aromatics or halogenated hydrocarbons.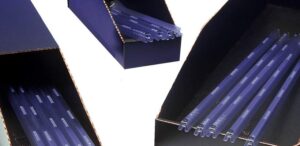 To view our full range of Corstat® products, click here.