Description
Dimple Board Rack – An excellent solution for storing PCBs on the workbench.
The Dimple Board PCB Storage Rack has a grid style slot design that allows for simple yet effective storage and transporting of PC boards up to 2mm thick. These can be stacked flat when not in use. The Dimple Board Rack fits into a standard euro-container.
All items are extremely strong and durable providing exceptional mechanical protection. The conductive properties provide a 'Faraday Cage' static safe environment for static sensitive devices and components.
Discover our full range of PCB Racks by clicking here.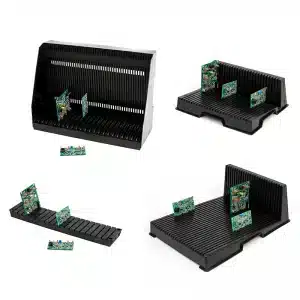 Key Features:
High quality solution for storing PCBs on the workbench.
Stackable flat when not in use.
Hard wearing black conductive polypropylene.
For use with all PCBs up to 2mm thick.
Board sized to fit into the base of a standard 400x300mm Euro-container.
Compliant according to IEC-61340-1-5 International Standard.
RoHS and REACH compliant.
Conductive Polypropylene
Conductive polypropylene is a top quality plastic material, perfectly suitable for ensuring protection from electrostatic discharges. Conductive polypropylene board racks can be used to safely store and transport sensitive electronic components (PCBs).
Please Note: All of our PCB racks and boards are now Imilani manufactured.