Description
Conductive Component Boxes – Ideal for PCB and component storage and shipping.
The way you store and transport your electronics can critically affect your business. Improper storage solutions or packaging can be costly, resulting in replacements and loss in time. You need to consider a number of factors before storing or shipping your electronic device. For example, if your electronic device is static sensitive then you will need to use the proper ESD-safe storage equipment to protect your device from static charge. Additionally, you would also want storage that is cost-effective, protects against mechanical charge and damage and can be re-usable. Determining which storage solution is right is the most important step in protecting the item.
Our range of boxes manufactured from conductive polypropylene is ideal for the storage and transport of small static sensitive components and assemblies. Conductive component boxes provide exceptional static and physical protection for ESD sensitive items. They feature a specifically designed latch that is cleverly integrated into the contours of the box and provide a cost-effective method of protecting your ESD sensitive devices. As well as minimising damage and the associated costs, they are durable & cost effective. They can be supplied empty or with any combination of high/low-density conductive foam. If you would like help selecting the right foam, please contact us and we can discuss options with you.
Please Note: These prices are for the box and excludes foam.
Key Features:
Lightweight, durable component boxes.
Manufactured from a conductive polypropylene for ESD protection.
Contemporary, modern design.

Sturdy yet easy to use catches allows for quick and efficient operation.

Cost-effective way to store and transport your ESD sensitive assemblies.

Supplied empty or with any combination of high/low-density conductive foam.

Conductive component boxes comply with IEC-61340-1-5 International Standard.

Standard colour: Black.
RoHS and REACH compliant.
Key Benefits:
Our range of conductive component boxes are a durable yet cost-effective way to store and transport static-sensitive components and devices. Each box is designed with a sturdy, easy-to-use latch and hinge which helps give a smooth operation, benefiting the end-user. This also gives a premium feel to the product.
Anti-static component boxes are a great solution for transporting and storing your static sensitive assemblies, whilst providing an effective protection barrier against ESD. There are many benefits of using this product for your own business and end-users.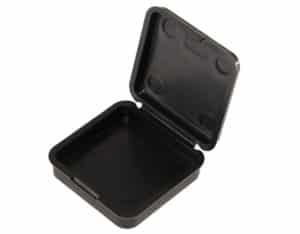 Improve the efficiency of you operations.
Sturdy yet easy to use catches allows for quick and efficient operation.
Supplied empty or with any combination of high/low-density conductive foam.
Great way to store or transport your small static sensitive components and assemblies.
Cost Effective Storage Solutions
Conductive component boxes can lower costs in a number of ways. These anti-static conductive boxes' durable design and tough material ensures increased longevity which lowers life-time costs of each box. With its cleverly integrated latch and hinge, it offers an enhanced life-span since the catch can withstand many amounts of usage without breaking.
Conductive Foam
To keep your components safe, we recommend that you use conductive foam to protect the electronic component from ESD and mechanical and physical damage. Conductive foam is designed for repeat use, and will act like a Faraday cage when an item is fully enclosed within it. We offer both high-conductive and low-conductive foam to match your requirements. To ensure safe storage, our foam can easily be stamped or shaped to accommodate the most demanding criteria – just let us know and we can do this for you.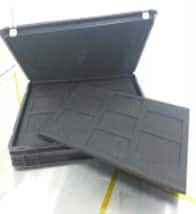 Component storage
We have a whole range of component storage at Bondline to suit all needs, from conductive carousels and storage cabinets to anti-static foam. Alternatively to our conductive component boxes, you may be looking for conductive component trays which provide precise storage for your small electronic components.
If you would like advice on storing your components correctly, contact one of our team members today. Our experienced team will be happy to help discuss this through with you and assist you with your storage solutions.